Post by sokkos on Jan 12, 2015 14:21:55 GMT -5
Update: January 12, 2015
D. auriculata: the one aerial shoot that I had was cut and transferred to quarter strength MS salts (MS1/4) to see if I can get it to root. No roots yet, but there are side shoots forming. Next step is to experiment with auxins to see if I can coax rooting.
Earlier, I had concerns about the D. auriculata plants being unrooted, stunted, and not growing well in general. I transferred half to MS1/2 as I had them before, and half to MS1/2. This picture speaks for itself. The circle is the outline of the rosette that had been growing on MS1/2 since the seeds germinated. It had stayed the same size since July. You can see the rosette has almost doubled in area after being transferred to MS1/4. If you look at the top of the plant (no pictures) the shoot is considerable more robust and the individual leaves appear much sturdier/stockier.
D. filiformis: still one of my favourite species to look at in culture. It grows fast, is upright for visual interest, and is different from all the other sundews I have. This particular plant has three flower spikes coming up! Everyone I've shown them to are surprised to see such a different leaf shape from the rosettes they are used to seeing.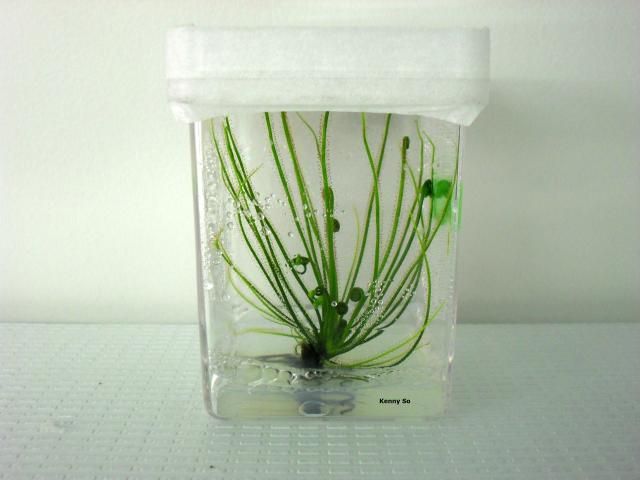 VTF: This is an example of "plants grown from seed may not come true." Two seedlings from the same batch of seed collected from low growing rosetted VTFs (courtesy of dvg)showing different growth. The one on the left looks similar to what I've seen for sale from commercial sources. It grows larger clumps of many shoots with smaller traps. The one on the right is different: it has longer petioles, generally with larger traps, and fewer shoots. It tends to not form large upright clumps like the one of the left.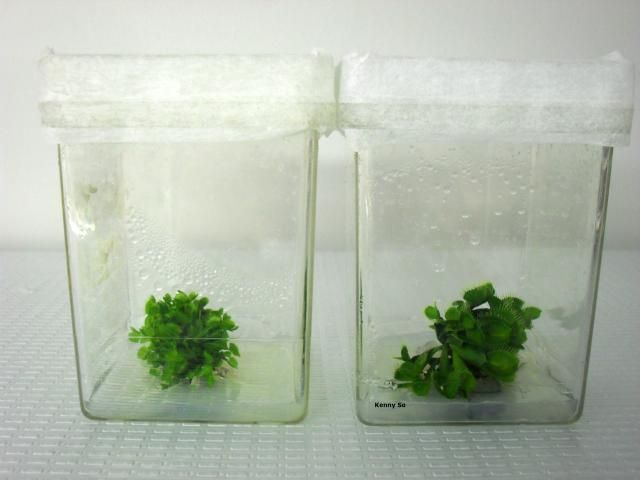 Happened to see take this picture at the right time and at the right place. When I'm dividing my VTF in culture, it is inevitable that I lose some leaves in the process of splitting the shoots. I habitually plate up all the the severed leaves just in case I can salvage something or at least try to get some more plants to regenerate. In this picture, a severed trap placed onto the surface of MS1/2 medium has regenerated a new shoot.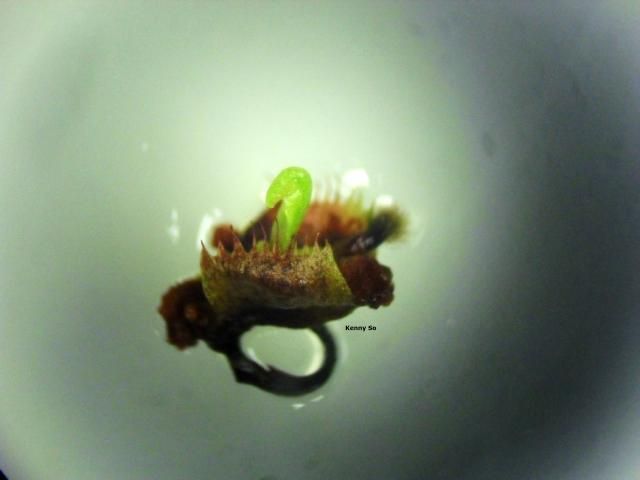 And finally, a non-carnivorous species. Bletilla striata seeds were plated the week before Christmas, and protocorms are now visible. This plant was given to me from a friend who saw the seed pod and bought it on clearance at Humber nursery. I've had it sitting on the lab window sill since early summer with the pod, and the pod had only recently dried. To be honest, I just kind of forgot about the plant. The roots are now behind kept cool in damp paper towel in the fridge so they can be potted up for the spring. This species is hardy to zone 5 here so we will see if it will survive the next winter after a year out of the ground. I was a bit over-zealous and ended up plating about 20 plates worth of seed, so if anyone is interested, I would be more than happy to send some seedlings, if they grow, come spring.