Post by snapperhead51 on Sept 8, 2015 5:28:42 GMT -5
Have seen some interest in the ceph vertical or sloped grow boxes or containers, I have done a few over there years after seeing Coal mine beach site many years back gave me a some inspiration , being only site quite like it .
No.1
The lager box is made from a foam box like you get particular or other veg in here in the whole sale markets . the ones you get here have holes in them but some dont, drain holes are needed, can use a 1/2 in drill , a steel rod heated up or a sharp knife,to make any holes you need, once the holes are made, line the inside bottom of the box with 70 to 80% shade cloth to fit neat inside the box, use 100 mile an hour tape or ducat tape to secure the s.cloth to the bottom of the box any way you can , its to stop the media or mix from draining out the drain holes.
once the cloth is in and fixed, then put in your mix you want ,I use sphag peat ,fine perlite , fine orchid bark ,and fine silica sand and fine chopped sphag moss or what ever your mix your using .
put a layer down and wet it in and firm down repeat till desired height of mix is achieved in the box,because of cephs have a deep tap root fuller box is best, now let the box and content settle fro at leas 6months and wet and firm the mix regularly , once the moss and sphag start to grow the mix will be firm enough to start putting up to about 45 degrees plant the ceph or what ever u want, and put at greater angle each month till desired angle is achieved and you done .
No. 2
the next was good and a bit quicker , using the same media or mix, I used a pot tray , and cover the bottom with heavy duty plastic and put agricultural pipe in the tray to hold the mix in , I did it like this, using the heavy duty plastic and some wooden slates and cutting the ag pipe in 1/2 to correct lengths the tray is ready to put the mix in
by using painted or treated wood they last long , use stainless steel screws , this is how the bottom looked
the ag pipe cut in 1/2 screwed through to the wood slats and holding the thick plastic in place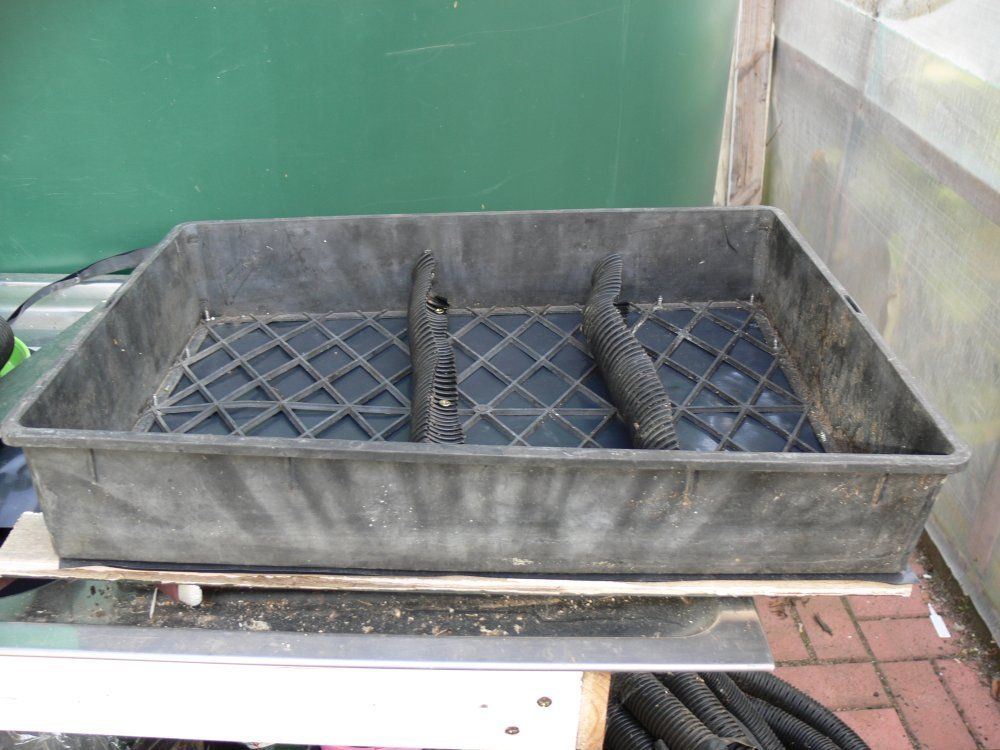 the ag pipe has drain holes is it all ready great to use
now ready for mix you have prepared to put in and firm in for the wall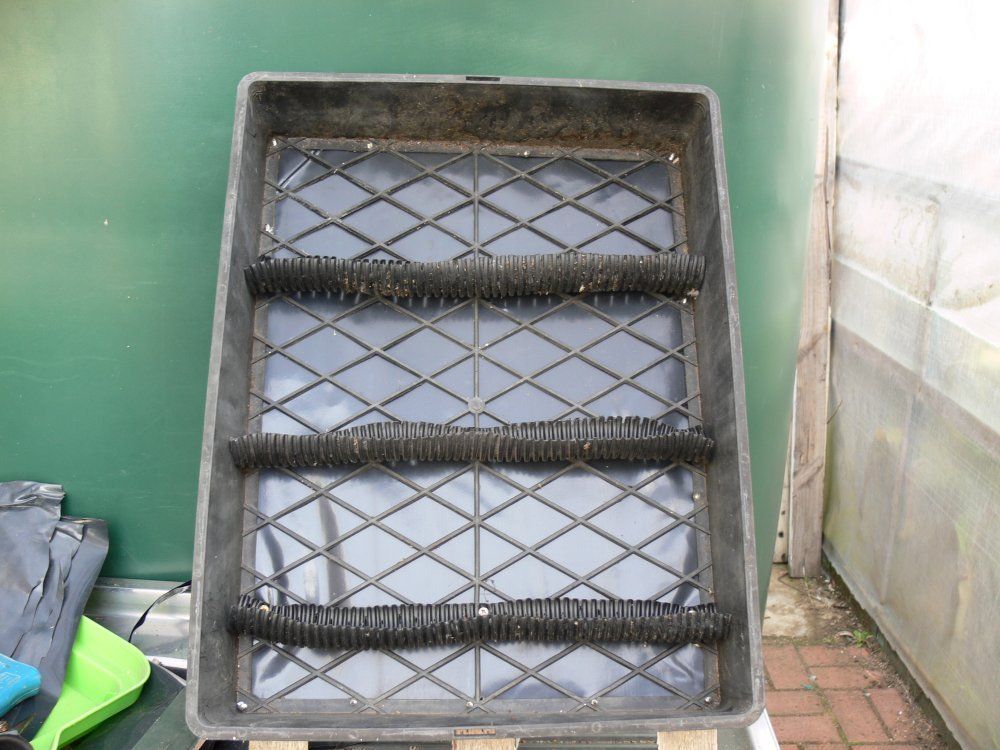 put mix in a wet in and firm down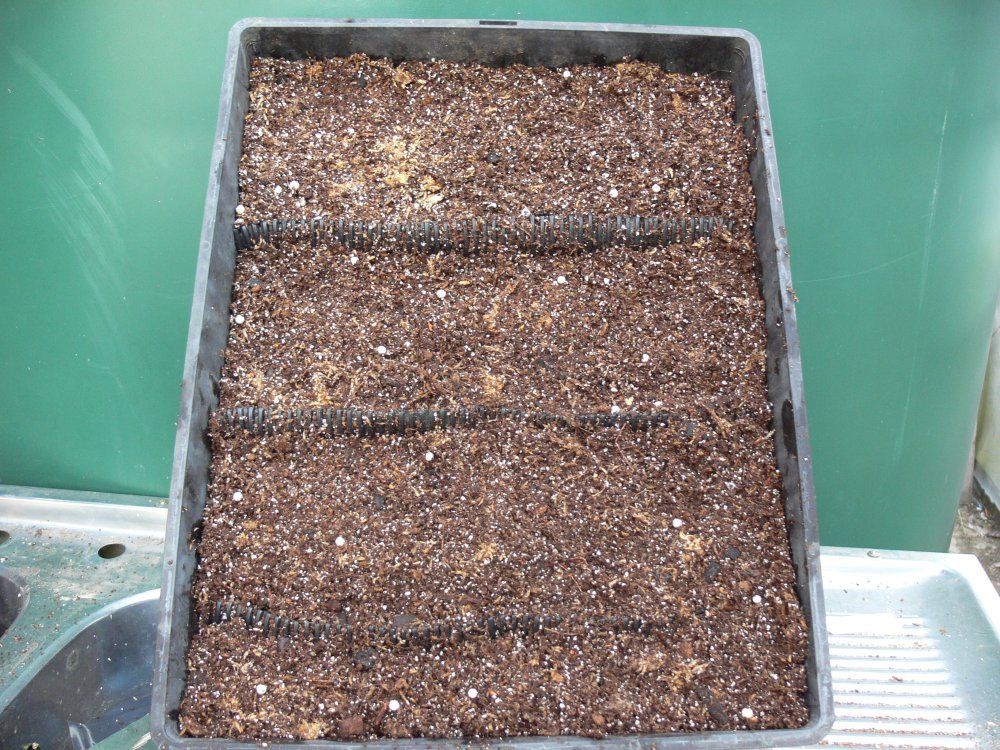 now finished , I put some plastic bordering at the bottom to help hold the bottom mix in the tray , its the green bit at bottom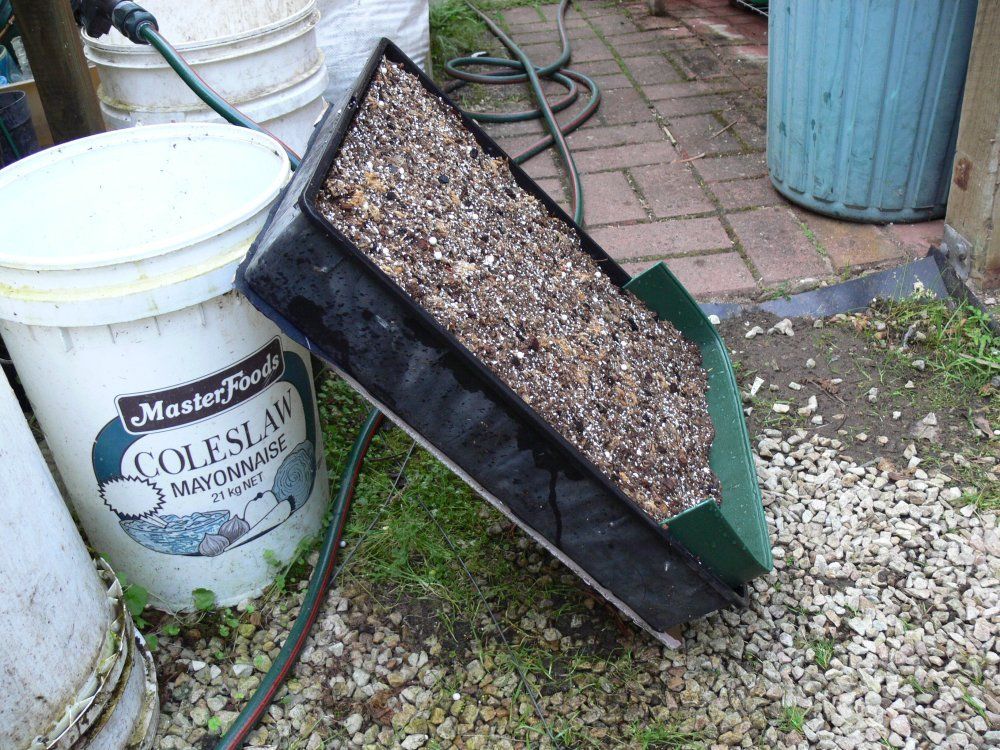 now your ready to plant in the cephs and after some time they mite look like this, even better if u dont have stinking hot summers

the plants here are just coming out of the dormant time from our winter so not looking there best still.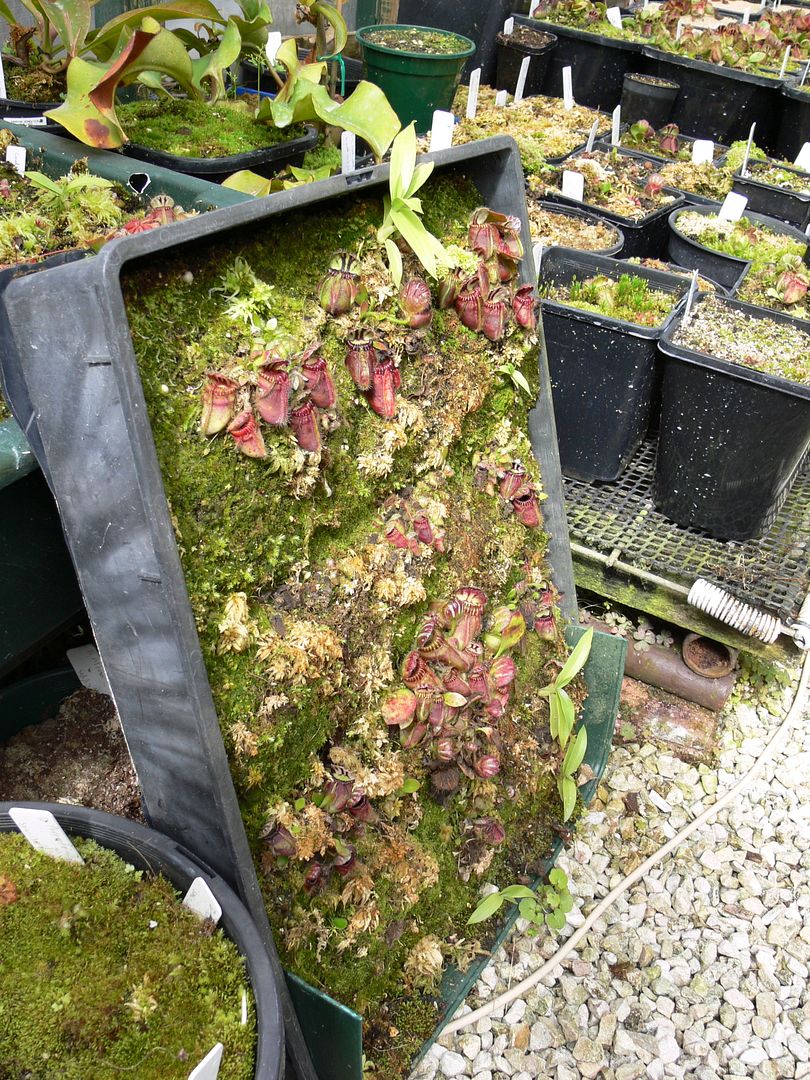 may be this will give a idea or you can make some thing similar to your own specs, or what ever, but it works great and they grow no differently than in a try or pot and box horizontal ,just looks different growing vertical .
The next idea is to make a actual wall to imitate a true rock wall with holes or pot size out crops deep enough to hold a good amount of mix and have them the scatter all round and put plants like ceph , neps and other cp's in the holes i made, finding the suitable materials here to use for a G/h has not been so easy though , like it to like a real water fall type wall , moss growing , small ferns and stuff .
cheers John