Post by roraima on Jun 7, 2014 18:02:34 GMT -5
A little while back when I was still a seed I was fortunate enough to view a discussion about
Ceph
seed germination as part of Shoggoths "Shogg list" thread. As part of the thread I learned that there was a possibility that Stephen Morley had some fresh Eden Black x Eden Black seeds for sale and I was lucky enough obtain his contact. I also did some historical research on the OCPS and found Shoggoths thread "My 'black' project" about his experience with germinating EB x EB seeds from SM. So before I continue any further I would like to thank Shoggoths and Maiden for their knowledge and generosity.
I've never attempted to grow
Ceph
from seed before and Steven's EB x EB
Ceph
seeds were not cheap, but I figured that it was a good risk to take and ordered 15 seeds. In relatively short time an envelope arrived from the UK. With great excitement I opened the letter and the little wax envelope containing 18
Ceph
EBxEB seeds (Stephen was nice enough to throw in a few more than I ordered). The seeds looked large (for
Ceph
seeds) and healthy, and after much reflection and internal debate I decided to sow 9 seeds into 2 different pots. "Pot 1" I covered with plastic wrap and placed outside on my deck for a natural outdoor cold strat, "Pot 2" I bagged and placed in my fridge for cold strat. It was late February and I had to keep an eye on the night time lows as to not risk freezing the seeds. After that I thought it was just a matter of waiting without forgetting the seeds entirely or getting lackadaisical (or another week in the fridge won't hurt…).
The months passed...every couple of weeks I would check on the seeds outside and as late winter changed to early spring my hopes began to rise, yet every time I checked on Pot 1 outside, the seeds looked worse and worse. Less vibrant, half buried and pummeled (despite the plastic wrap covering) and getting harder to recognize as seeds at all. By April I decided that the Pot 1 was quickly turning into a failure, and I brought the pot with the barley visible seeds inside and placed it under lights right next to the two mature
Ceph
clones a grow.
Three weeks passed and Pot 1 with the
Ceph
seeds under lights was looking even worse, I couldn't tell with certainty that there were even any seeds left and the surface of the media was beginning to be covered in weedy moss species. I made sure the Pot 1 never dried out, but beyond that I was convinced this first attempt was a complete failure and to make matters worse Pot 2 had been in the fridge for two and a half months and when I checked several seeds were covered in a fine, white, hair-like, mold.
I needed to get Pot 2 out of the fridge ASAP but my two planned strategies for germination had already failed me. I think more out of frustration than anything I took Pot 2 out of the fridge and placed it outside on my deck in a shady spot without anything covering the pot or media to protect the seeds.
Since then I've made sure that both pots never dry out, but beyond that I've come to think of the whole thing as a complete write off and kind of an embarrassing and expensive failure. A couple of weeks ago when watering my outdoor plants I checked on Pot 2, it looked like the surface of the media had been disturbed possibly by a bird or an unexpected overnight rain shower and I could no longer see any seeds.
Over the last few days in the back of my mind, I've been thinking about moving on and using the pots and media I used for the failed
Ceph
EBxEB seed germination for other projects. Yesterday as I was doing some outside CP maintenance I reluctantly bent down to mist the barren and depressing surface of Pot 2 when two tiny green cotyledons caught my eye. With disbelief I scanned the surface of the pot and after much close inspection I have 8 tiny, just germinated EB x EB seedlings growing in pot 2!!!!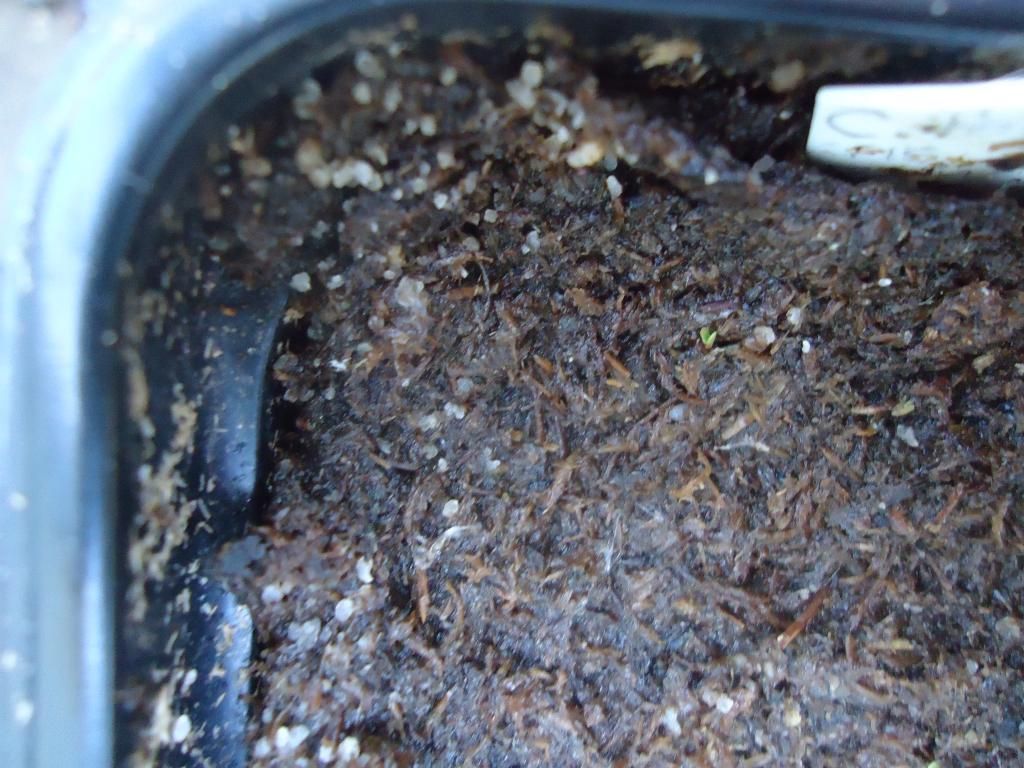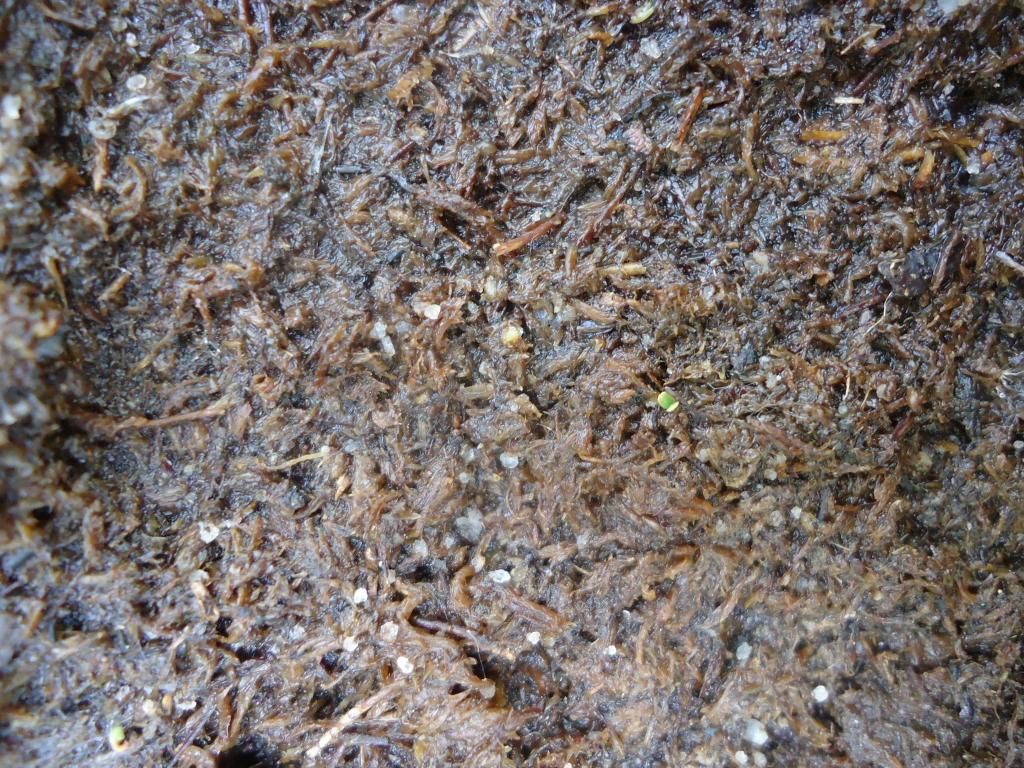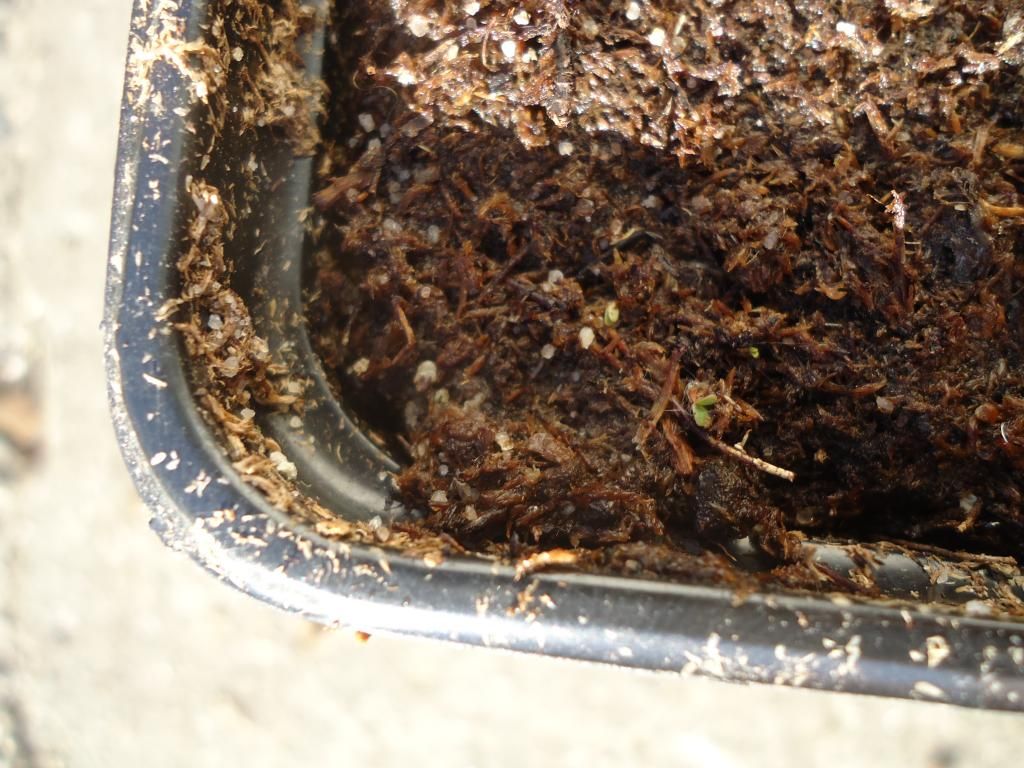 Not much to look at right now, but I'm pretty excited.

I remember earlier in 2014 there were several threads/posts about members looking for Ceph seeds and I think some of you purchased some EBxEB seeds too?

I was wondering what other members experiences have been like with germinating
Ceph
seeds this season (or past seasons, I just don't want to make members feel like they have to regurgitate pasts threads/posts).
Anyways thanks for looking and wish me luck if you feel like it, these things are tiny and still very vulnerable.